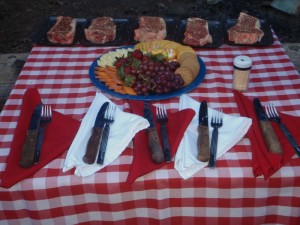 Join us this summer for an unforgettable evening of horseback riding and fine dining. Saddle up and enjoy a two hour ride along the cool waters of Maroon Creek. You never know what you may see on the ride! Wildflowers fill the open meadows and wildlife abound in these woods - you may even spot a bear along the way.
When your ride comes to an end, you'll be met by our friendly staff, and a table fit for a king. Enjoy a few snacks while your thick New York Strip steaks are prepared over the fire. I have never seen a kid (young or old) that didn't like s'mores either. We also offer ribs, fillet mignon, chicken breast or lobster. Call or click on Ride Menu link below for details. We do not provide alchohol, so make arrangements with us to bring some along.
THURSDAY NIGHT LOCAL'S SPECIAL
This unique event begins with a two-hour trail ride along Maroon Creek. With the sun on your back, guests will follow the trail to your chef-prepared private dinner next to the clear waters of Maroon Creek. The table setting is in stark contrast to the ride, as you will find tables set with linens and a roaring fire to greet you at the end of the ride. Great for the whole family!
*$300/Person
FRIDAY THROUGH WEDNESDAY PRIVATE
The standard meal is a steak dinner; if you would like a custom dinner ride for your party, we will work with you on the details. Book a private ride and we can customize a menu just for you with ribs, fish, fillet mignon and our lobster dinner has been very popular.
(Four person minimum please)
Starting at $350/Person
*Does not include gratuity or alcoholic beverages; you are welcome to bring your own.
FIRESIDE ENTERTAINMENT AVAILABLE UPON REQUEST FOR AN ADDITIONAL FEE THAT MUST BE PAID SEPARATELY