Rare Rides - *Willow Lake
Each year we do this, we have a blast...and it just keeps getting better! This is a very unique, once a summer, 5 day trip available for up to 6 people. We try to build this trip around the annual Perseid Meteor Shower in August at beautiful Willow Lake. It is a truely spectacular event, and we are glad this is such a memorable trip for all the families we have taken on this adventure.
Plans for the 2020 trip are already underway.
$750/person/day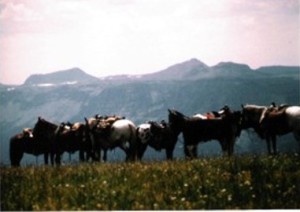 Crested Butte Overnight Ride
Adventure seekers: This two-day ride is for you! Ride through the Maroon Bells Wilderness to the top of East Maroon Pass and drop down into Crested Butte. You are on your own for dinner and breakfast. We will return the following day to Aspen.
(4 person minimum please)
$1250/person
includes lodging at Grand Lodge, 2 people per room.
Specialty Rides
These are custom rides created for you in our area. This can include dinner party rides or overnighters to nearby areas. We have a list of suggestions and some guests familiar with the area have a wish list of their own. Please call with your wish list or ask us about ideas!
Off the Beaten Path
If you want to see things nobody else does, you have to go where nobody else is.
And we know where it is!
These rides are for people who know they have to do a little more traveling to get to remote, exquisite places and are based out of our sister site near the Flattops Wilderness area. Riders usually stay in Meeker the night before the trip and arrive at our ranch the next morning to meet their horses. We ride on top of the spectacular Flattop mountains and camp under the stars. Guests use this time to interact with family and friends, reward employees, read a book, fish, hike, and contemplate while we take care of the packing, cooking, guiding, and camp duties. We can't wait to show you around! Please visit our site at Flattops.com